IMEI Lost - Stolen
Check
Check Find My iPhone Lost Mode Status using the free online lookup service. Find out remotely whether your iPhone Lost Mode is enabled or disabled. Learn more details about the Lost / Stolen status on Apple devices.
Please wait for the IMEI check results. Sometimes, the IMEI checking process may take a little longer. But you can always find all essential order details in your account.
Advanced IMEI data check results are offered at an extra cost. You must
Log in
or
register an account
to order this paid service.
1
2
3
4
5
6
7
8
9
10
11
12
13
14
15
16
17
18
19
20
21
22
23
Example of IMEI Lost - Stolen check result:
Model:
IPHONE 11 128GB BLACK CELLULAR [A2111] [IPHONE12,1]
IMEI:
356551105000XXX
IMEI 2:
356551105115XXX
Serial Number:
C6KZX0QLNXXX
iCloud Lost \ Stolen Status
:
LOST
Extra IMEI Data:
iCloud FMI Status:
ON
MDM Lock Status
:
ON
Carrier Lock
:
LOCKED
SIM Lock
:
LOCKED
Network carrier:
US T-MOBILE LOCKED ACTIVATION POLICY
Country:
United States
Blacklist Status:
BLACKLISTED
Blacklisted By:
Sprint
Blacklisted On:
2020-08-04 21:38:48
Blacklisted Country:
United States
Last Activation Country:
United States
Warranty Status:
Out Of Warranty (No Coverage)
Loaner Device:
YES
What is iPhone Lost Mode?
Apple introduced the Find My iPhone Lost Mode feature as part of its Find My app to help users track its location if stolen or lost.
Users who lose their gadgets must remotely enable iPhone Lost Mode in their iCloud account immediately. It is only possible if Find My tool has been turned on beforehand. If the smartphone is connected to a cellular or Wi-Fi network, it will at once display your custom message and phone number, which you enter while enabling the Lost Mode. If it is offline or out of power, the new status will turn on when the handset appears online or connects to Wi-Fi or cellular data.
So, what is Lost Mode on iPhone? What does it change for you as a user who is not giving up on finding their smartphone?
Features that automatically enable when iPhone Lost (Stolen) Mode is on:
Your iPhone will be locked;
The smartphone will require your passcode or PIN to unlock it;
The locked screen will inform others that the iPhone is in Lost Mode and whoever finds it must contact you;
The phone will show no notifications, no alerts, and no alarms;
The device battery will be in Low Power Mode to save energy and extend the battery's life;
Location Services will be enabled automatically, allowing you to track the device;
Apple Pay will be automatically disabled.
At the same time, Find My iPhone Lost Mode will allow incoming FaceTime and phone calls. Thus, you can call it hoping to talk to someone who finds the device to get it back.
Why do you need to check iPhone Lost Mode Status?
The popularity of iPhones is not decreasing year after year. But as more people start to think of ecological problems or dream to own an Apple smartphone, the second-hand device market sells more and more used iPhones.
Even an older used iPhone is a valuable handset with many stunning features and many happy years of usage ahead. Still, you must be aware of some things before making such a purchase.
The second-hand market has numerous 'lost' and 'stolen' iPhones for selling. But the iPhone Lost Mode makes the device useless, like a brick. It is nearly impossible to activate it for a new user. And it is the main reason you need to check iPhone Lost Mode status BEFORE you buy a used device from anyone, online or offline.
The IMEI checking service lets you remotely, efficiently, and quickly check iPhone Lost Mode to know essential details about the handset.
Find My security app with extra features that lock an iPhone reported as 'Stolen' or 'Lost' prevents new users from erasing or unlocking it. Deleting information will not remove the Activation Lock, and keeping such a useless phone at home is not reasonable.
How to check IMEI Lost \ Stolen Status?
Checking Find My iPhone Lost Mode status with IMEI.org service is straightforward and super-easy. It is the best protection against buying a useless second-hand iPhone. All you need to ensure is that its IMEI is clean, then you can enjoy the device and all its options.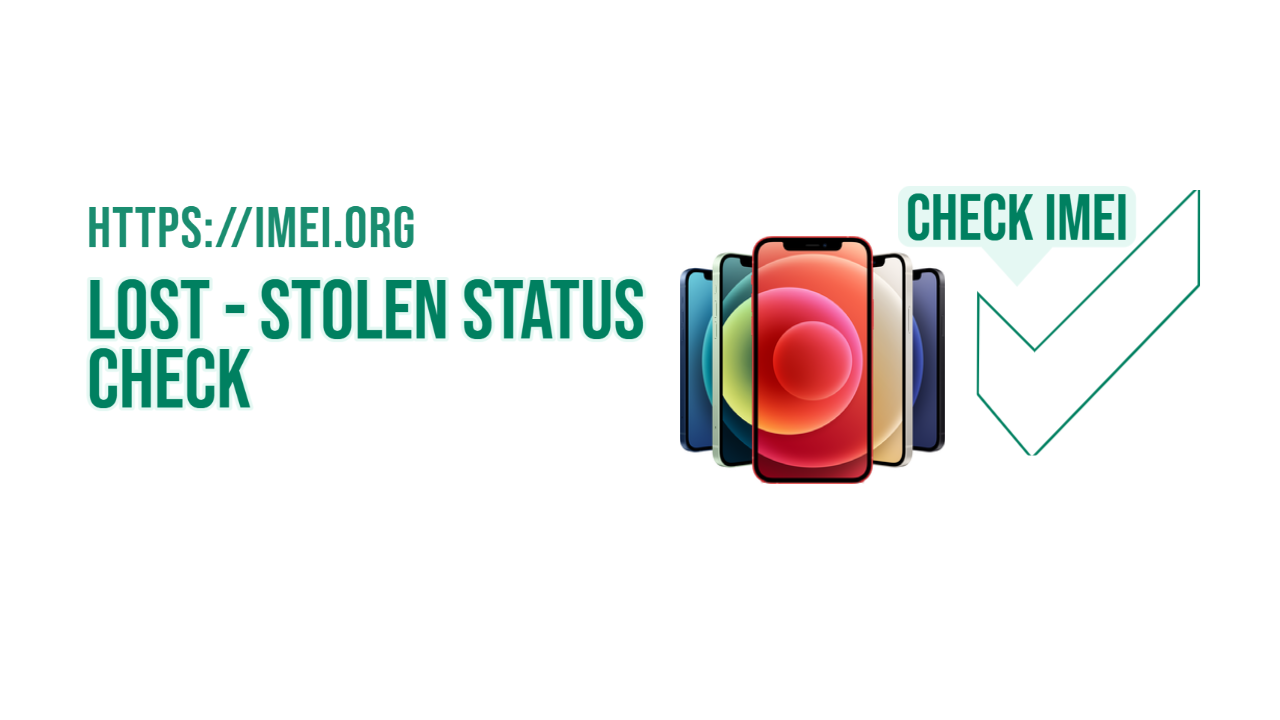 IMEI Lost - Stolen Check
The iPhone Lost Mode checker is a free service you will love using. It is helpful and convenient, and you will get an instant result.
Follow a user-friendly guide to check IMEI Lost \ Stolen Status online for free:
Step 1. On the smartphone, dial *#06# to get its IMEI. Type this IMEI into the 'Enter IMEI number' field.
Step 2. Select the service titled 'iCloud [Lost / Stolen] Status Check.'
Step 3. Click the green button that says 'Check IMEI' and wait for the result:
If the returned statuses are 'FMI: OFF' and 'iCloud Lost Mode: CLEAN', the phone is ready to find its new owner.
If you see the messages 'FMI: ON' and 'iCloud Lost Mode: LOST / ERASED', the smartphone is a big problem to avoid.
Our free checker is the top source for checking popular smartphones by IMEI, ESN, or MEID numbers. This tremendous remote tool is available to help you at any time, day or night. So, use it to learn important information about every iPhone in question, including it's Lost Mode, Find My ON / OFF, SIM-lock, Apple Warranty statuses, and other modes.
Check Phone IMEI
IMEI.org proposal to check online IMEI for the most popular device ever made!
How can we help?
Need help, have questions or want to suggest a feature? Send us a message here.