IMEI MDM - DEP
Check
Use a reliable IMEI MDM-DEP check tool to learn detailed information about your Apple iPhone, iPad, or Mac MDM (Mobile Device Management) lock status. Every device with an enabled MDM lock is corporate-owned. Meaning it has corporate enrollment in Apple DEP (Device Enrollment Program) and is fully controlled remotely through a Configuration Profile.
Please wait for the IMEI check results. Sometimes, the IMEI checking process may take a little longer. But you can always find all essential order details in your account.
Advanced IMEI data check results are offered at an extra cost. You must
Log in
or
register an account
to order this paid service.
1
2
3
4
5
6
7
8
9
10
11
12
13
14
15
16
17
18
19
20
21
22
24
25
26
27
28
29
30
31
32
33
34
35
36
37
38
39
40
41
Example of MDM check result:
Model:
IPHONE 11 128GB BLACK CELLULAR [A2111] [IPHONE12,1]
IMEI:
356551105000XXX
IMEI 2:
356551105115XXX
MDM Lock Status:
ON
Company name:
ABC LTD
Company Address:
A TERMINALVÄGEN 24, n/a, Solna, 171 73
Phone Number:
0000000000
Company Email:
[email protected]
Company Department:
ABC
Company City:
New York
Country:
SWE
Support Phone Number:
[email protected]
Support Phone Number:
0000000000
Is Supervised:
TRUE
Allow Pairing:
TRUE
Is Mandatory:
TRUE
Is MultiUser:
FALSE
Auto Advance Setup:
FALSE
Management Protocol Version:
TRUE
Skip Buddy Items:
AppleID, payment ...
Extra IMEI Data:
iCloud Lost \ Stolen Status
:
LOST
Serial Number:
C6KZX0QLNXXX
iCloud FMI Status:
ON
SIM Lock
:
LOCKED
Carrier Lock
:
LOCKED
Network carrier:
US T-MOBILE LOCKED ACTIVATION POLICY
Country:
United States
Blacklist Status:
BLACKLISTED
Blacklisted By:
Sprint
Blacklisted On:
2020-08-04 21:38:48
Blacklisted Country:
United States
Last Activation Country:
United States
Warranty Status:
Out Of Warranty (No Coverage)
Loaner Device:
YES
What is Apple MDM (DEP) Lock?
Before purchasing a second-hand device, knowing your iPhone, iPad, and Mac MDM Lock status is a must. Learn why checking MDM on every Apple computer and smartphone is essential to protect yourself and save money and time.
Apple DEP program allows using MDM profiles on all corporate iPhones, iPads, and Macs. But this automated device enrollment becomes a problem for users who purchase used devices on second-hand markets. Often, employees who leave the organization also take their gadgets to resell them. And you do not want to buy a useless device, right?
Why do you need to check iPhone MDM Lock status?
Many companies use DEP together with MDM to completely control every corporate iPhone, iPad, and Mac. DEP establishes the corporation as the owner of the devices. Through MDM (Mobile Device Management), the company can administer all devices remotely with just a click.
An employee cannot remove MDM Lock from a corporate device even if they leave work. But the company can distantly erase any macOS and iOS device with MDM Lock on it, put Activation Lock on it, update software, delete files, etc.
Would you like to avoid all these problems? Then discover the MDM Lock status of the iPhone, iPad, or Mac before ordering it from an online marketplace.
How to check MDM Lock / Unlock status via IMEI?
To ensure that a company doesn't already own the device you want to have, you should check its MDM Lock status using the most reliable IMEI.org service.
What you need is the iPhone or iPad IMEI number. Here is how you can find it:
Method 1: Dial *#06# to display the unique IMEI code on the iPhone screen.
Method 2: Launch Settings app and General menu to see IMEI listed under the About section. Knowing the iPhone identifier, you can check MDM details by entering the IMEI into the particular field. Then click the green button reading 'Check IMEI' and wait for the instant results to be delivered by the server.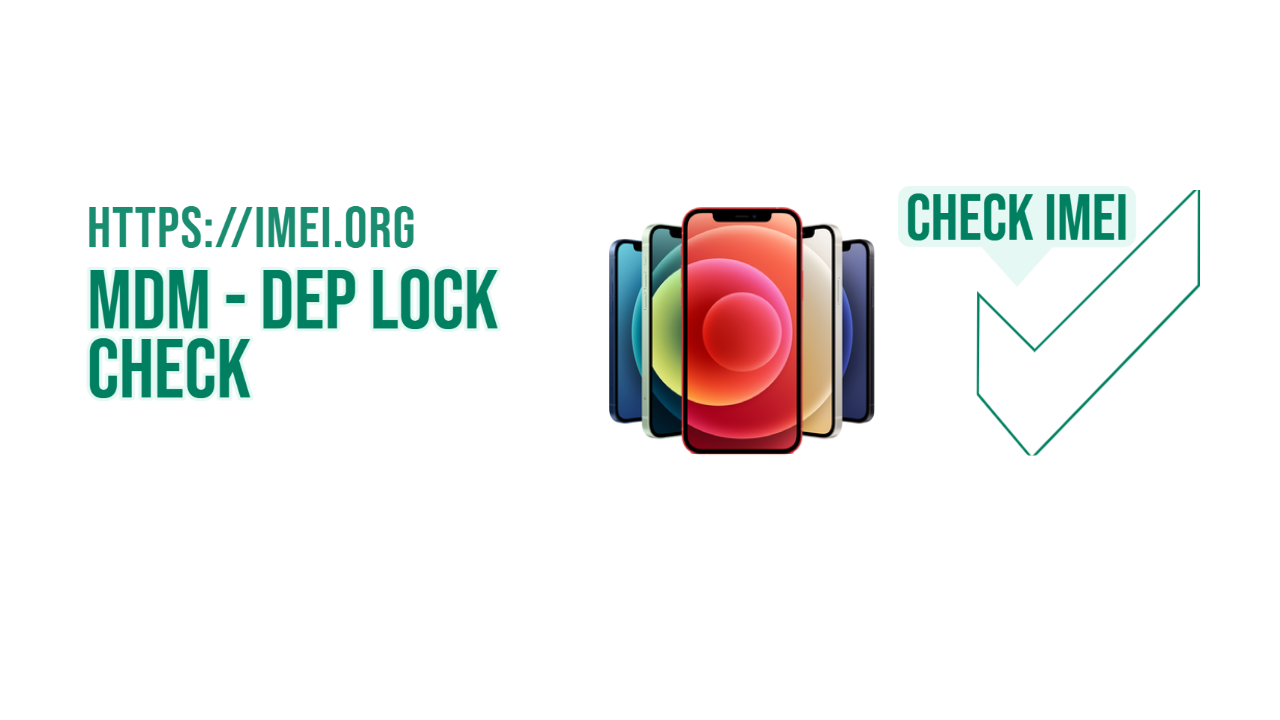 IMEI MDM - DEP Check
You will get one of these two answers:
If your MDM Lock status is 'ON', the iPhone or iPad is corporate-owned and distantly controlled through the Mobile Device Management program.
If the MDM Lock field says 'OFF', the iOS device is free from a configuration profile.
Remember to check MDM by IMEI code every time you plan to get a second-hand iPhone or iPad. Protect yourself from getting a device with MDM Lock on it and ensure that you are the only person with complete control over your gadget.
Check Phone IMEI
IMEI.org proposal to check online IMEI for the most popular device ever made!
How can we help?
Need help, have questions or want to suggest a feature? Send us a message here.