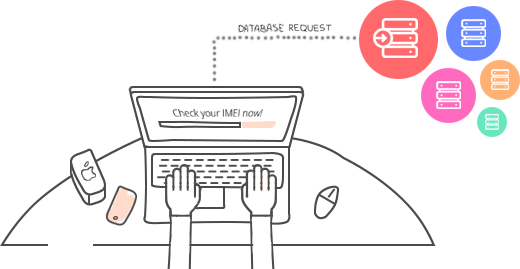 IMEI CHECK
Enjoy our user-friendly IMEI lookup service which gives you full direct access to the most comprehensive IMEI mobile data source in the world.
Check Apple and Android phone IMEI number:
Please wait for the IMEI check results. Sometimes, the IMEI checking process may take a little longer. But you can always find all essential order details in your account.
292950
IMEI checked today
2607750
IMEI checked last week
How to check IMEI?
It amazes how quickly and easily you can check the IMEI number via our services.
Dial *#06# to get device IMEI

Enter IMEI to the field above

Select IMEI Check Service

Get all details about your device!
IMEI.org Benefits
IMEI.org is your #1 source for getting information about a smartphone by its IMEI, MEID, or ESN number. This remote service is available 24/7, and it offers the best IMEI checking tools that give answers to all your questions at once.
Direct IMEI check source
IMEI.org as your fastest and most comprehensive source with full access to the IMEI checker system, with all services gathered in one place for your convenience.
Fast Services You'll Love
Our IMEI check services are compelling. We ensured our website would easily handle thousands of checks per minute.
API Connection
Companies and individual business can use API access to connect to our IMEI check services and enjoy instant responses and quick results.
Telegram Access
You can use a reliable Telegram app on all your devices to enjoy quick access to our IMEI check services worldwide.
Check IMEI Apple
Use our services to check IMEI iPhone, iPad, and other iOS devices. We deliver only prooved information by IMEI numbers for all Apple gadgets.
Check IMEI Android
Use our services to check the IMEI number of popular Android phone models and receive details about the devices.
What is IMEI number?
Every GSM handset has a unique identifier called IMEI number. The four-letter abbreviation stands for the International Mobile Equipment Identity. And every smartphone user needs to understand what IMEI is.
IMEI CHECK
So, if you have a GSM handset, it comes with an IMEI number It is a unique 15-digit number that identifies your gadget. It is interesting that phones that have no SIM card slot also have no IMEI number. And CDMA gadgets have a different identifier, MEID code. We can compare the IMEI to a human fingerprint. There are no two devices with the same 15-digit code, just like no two people with the same fingerprints.
So, what are those 15 digits? GSM Association organization defines the first 14 digits, while the last digit is a check number. According to the IMEI Allocation and Approval instructions, the last digit is calculated via the Luhn formula.
The initial eight digits of the 15-digit code define the smartphone model and source information. This 8-digit part of the IMEI number is called TAC, standing for Type Allocation Code.
IMEI & GSM networks
GSM networks across the world rely on IMEI codes to identify gadgets. By this number, a network knows if the device is valid or not, locked or unlocked, reported as lost or stolen, etc. Also, IMEI helps carriers to block phones and prevent smartphones from accessing their networks.
Let us show you an example. If the original handset owner reports his smartphone being stolen, the mobile operator can block that device remotely. In this situation, a thief cannot use a mobile connection and ends up with a useless gadget. Switching a SIM card will not help because, in many cases, the device is blocked by several networks at once.
Many carriers take more steps to prevent thieves from using stolen or lost phones. Some network providers can suspend such IMEI devices and make SIM card replacement impossible.
IMEI are also valuable for law enforcement services. The 15-digit IMEI number makes it possible to track a device and find its location with a few-meter accuracy.
IMEI & Serial Number
IMEI number is not the same as the phone Serial Number. Manufacturing companies list serial codes to use them internally. But IMEI's are standard all over the globe.
Once you understand what IMEI is, you must learn how to find your IMEI number and use it for your comfort.
How to find IMEI Number?
Whatever mobile phone you have, it is quick to look up its IMEI number by dialing this short USSD combination:
The fast USSD code is the simplest way to find your unique identifier. It supports nearly all smartphone models by different brands.
How to Find IMEI on iPhone?
Often, you want to look up your 15-digit number on your iPhone and copy and paste it. For this purpose, it is better to find IMEI using your Settings application.
Click Settings app;
Select General menu - About section;
Keep scrolling down and search for the Primary group of codes;
Once you see your IMEI code, click-hold it to copy and paste when needed.
How to Find Android IMEI Number
Similar to iPhone devices, Android smartphones also hide IMEI codes in the Settings. The guidelines are simple:
Go to Settings;
Keep scrolling down till you see the 'About Phone' section and click it;
Scroll down more, and you will see your unique Android IMEI number.
Find IMEI Number without Phone
Sometimes you don't have a smartphone nearby, or you can't access its Settings app. There is another method of finding your IMEI number without the phone.
It would help if you looked at the original packaging (box). If you still keep it, you are lucky. Take it and find the barcode label. Sometimes, it is placed over the sealer. Often, it is listed alongside your serial number and the barcode.
Many devices come with an ejectable SIM card tray. If yours is like this, you can find its IMEI on the SIM tray. All you need is to remove the SIM card holder and look at its top or sides. There should be your 15-digit IMEI code printed in small numbers.
Also, some smartphones have removable batteries. If you can easily remove the battery and look underneath, you will see your unique IMEI code printed there.
What can be checked by IMEI number?
What can you check using the IMEI number? This 15-digit identifier can provide you with valuable details about your mobile device.
The reliable IMEI.org IMEI Check Status services are ready to provide you with the essential information about the checked devices. Learn what exactly you can learn after entering the unique 15-digit code into the required field.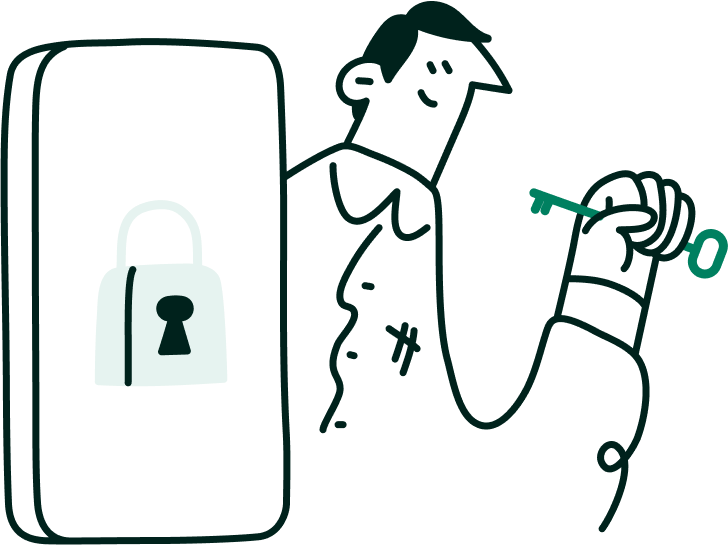 The most important thing you can learn about your phone by its IMEI number is the blacklist status. It is essential to know whether the device is in good standing or blacklisted because every blacklisted gadget is useless and will never connect to any mobile network.
You must learn the IMEI number when you plan to purchase a used device from someone online or eye-to-eye. Run a blacklist status check to ensure that your future purchase has no problems.
Modern devices have many problems that you can unveil by a quick remote IMEI check using IMEI.org services. For example, Apple iPhones could have different lock issues, including SIM carrier lock, hardware and software lock, iCloud Activation Lock, MDM lock, etc. The iPhone can also be reported as stolen or lost. And you can learn all this information by the unique IMEI code.
Only think of how many problems you can avoid if you check the IMEI of the smartphone before ordering it!
It is 100% safe to check every phone by its IMEI and learn whether the gadget comes with a warranty, is unlocked for use with worldwide carriers, etc.
The IMEI.org services value the privacy of every client and guarantee complete confidentiality to every customer!
How to Check IMEI Number?
All IMEI.org IMEI Check Status services are willing to provide you with useful details about the checked devices. There are free and paid IMEI and Serial check tools, so you can select whatever suits your needs at the moment.
All services are available to you 24/7. To use them, enter the 15-digit IMEI code into the search window, choose the tool and perform the check.
There is a 'Show Example' option next to the service. By clicking it, you will see a sample of the IMEI report you will receive after submitting your check request.
After selecting the service and entering the unique phone identifier into the required field, you should press the 'Check IMEI' button and wait for the tool to deliver the report to you.
You can keep track of all your IMEI check reports by creating a free account on IMEI.org website. In this account, you will see a history of your checks and a great bulk IMEI-check option.
The free services are available to all users. However, it is only possible to order paid IMEI checks after registering an account. The account gives you many advantages:
You can enjoy flexible prices depending on your IMEI checking volume;
You will see your credit balance;
You can use more premium IMEI check tools;
You can use bulk IMEI check submission;
IMEI.org takes care of every customer. We accept multiple payment methods (Visa, Mastercard cards, PayPal, Cryptocurrency ETH, USDT, BTC, bank transfers).
Use IMEI.org to check IMEI for all Apple and Android devices. The services are available to individual users and businesses that can directly access the check tools through API connection.
Check Phone IMEI
IMEI.org proposal to check online IMEI for the most popular device ever made!
Recent news
The IMEI.org provide complex IMEI check data service for any iPhone models
How can we help?
Need help, have questions or want to suggest a feature? Send us a message here.