Enjoy Bypassing iOS 16 MDM Profile on iPhone and iPad
Stop worrying about a sudden lock of your Apple device because of Mobile Device Management. You can remove it with ease right now! Use the iOS 16 MDM profile bypass on iPhone and iPad with iActivate, and start enjoying your life with no more limitations.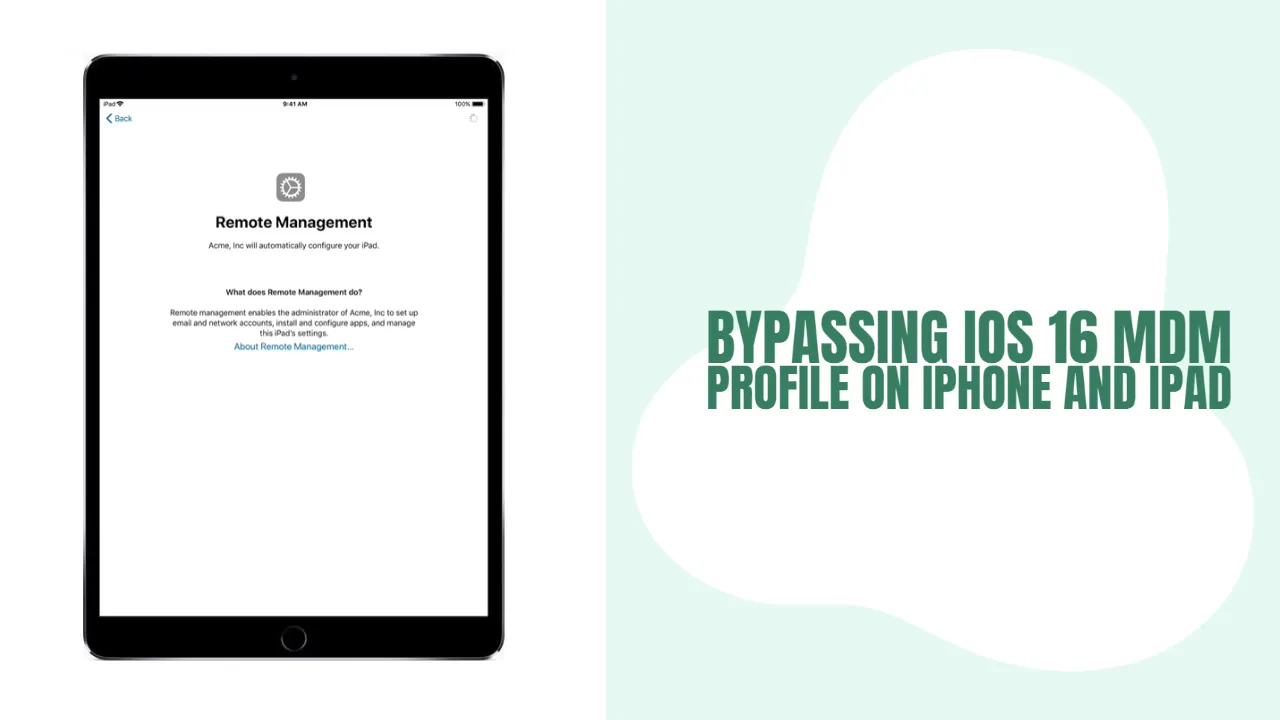 Fans of second-hand gadgets know how easy it is to order a locked device from someone unknown. But even if it happened to you and, after the iOS 16 update, your iPhone or iPad shows an MDM profile, you can bypass it and use the phone or tablet without issues.
Is MDM profile an issue or not after the iOS 16 update?
Mobile Device Management can be an issue if you have a corporate-owned iPhone or iPad updated to iOS 16. Companies that use DEP can control such a device remotely.
In other words, if you have MDM, you can unexpectedly find your iDevice erased, locked, updated, etc. Thus, it is better to bypass the corporate profile and start controlling your gadget all by yourself.
How can iActivate remove the MDM profile on iOS 16 iPhone and iPad?
Developers who stand behind the iActivate Tool have ensured to come up with a friendly solution that is fast, easy, and intuitive. Thus, you will love running the software that bypasses your gadget's corporate-controlled profile with a single click.
The easiness of the procedure will make you happy. You should complete three steps to succeed:
Step 1. It is a must to download and install a Mac or Windows iActivate version on your computer.
Step 2. With your iPhone or iPad connected, run the tool. It will show you instructions on the screen on what to do next, so follow them.
Step 3. Click the 'Bypass' button and connect to WiFi to activate your mobile device after the software reports a successful result.
What are the advantages of iOS 16 MDM bypass?
The removal of the corporate profile gives you several significant advantages.
Firstly, you will know that your iDevice belongs to you only, and no one can distantly erase or lock it. After the bypass, you will have no Mobile Device Management control over your smartphone or tablet.
Secondly, the iActivate software will ask for no password or login information to remove the MDM on iOS 16. Thus, you should not worry about it.
Thirdly, if you notice a 'could not be downloaded' message about the MDM configuration, this problem will disappear after the bypass.
Start bypassing the iOS 16 MDM Profile on iPhone and iPad today. The iActivate requires only a few minutes to fix your problems and let you enjoy using your gadget without limitations or corporate control.
Check Phone IMEI
IMEI.org proposal to check online IMEI for the most popular device ever made!
Recent news
The IMEI.org provide complex IMEI check data service for any iPhone models