What Can Be Checked by iPhone IMEI Number?
Do you know how much you can learn about any iPhone model by its IMEI number? You will be amazed by all the details that come right before your eyes remotely, often for free, and constantly 24/7/365. The intuitive IMEI.org checking tools deliver instant results and are extremely easy to use.
Relying on an online checker, you can learn all essential statuses, phone serial numbers, storage capacity, and way more.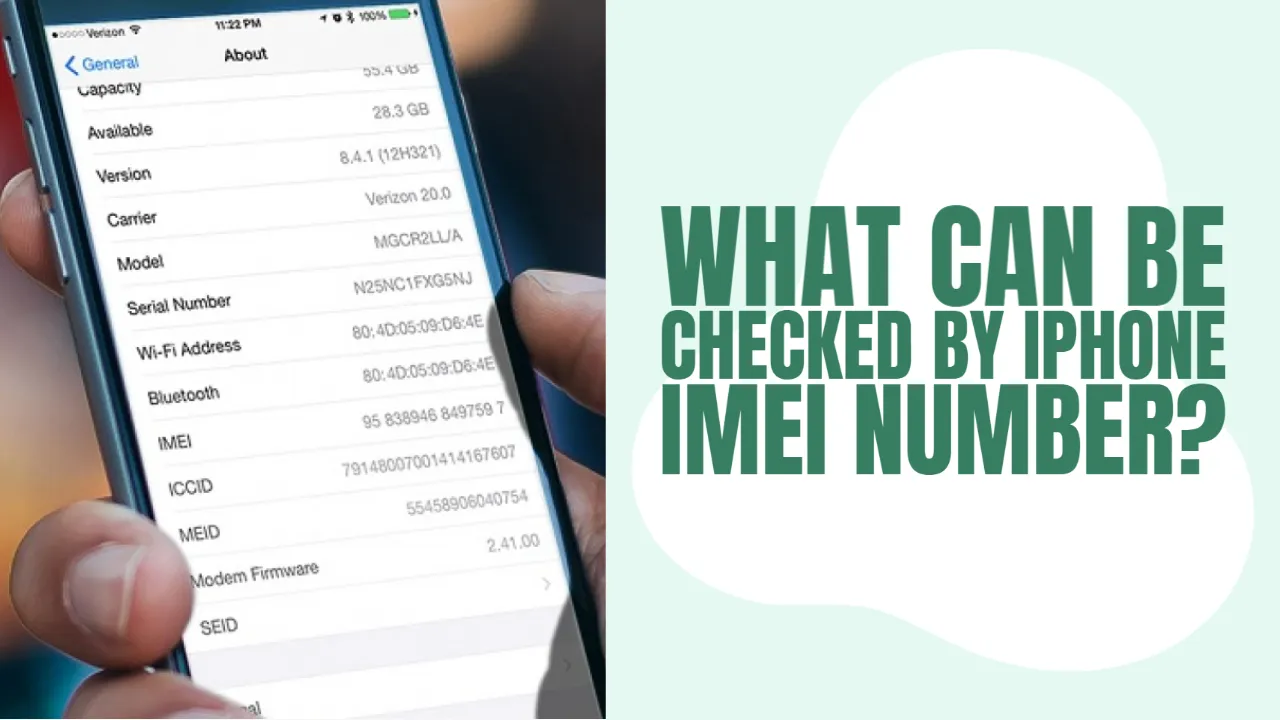 How to Find Your IMEI
Since everything you can learn about an iPhone remotely requires an IMEI number, you should first get it. There are two most popular methods of discovering this unique phone ID, and both are super quick and easy.
If you have an iPhone in hand:
Go to Settings and look for your iPhone IMEI under General - About sections;
Dial a simple number *#06# - and the ID will appear right on the handset screen.
If there is no device in hand:
Ask the seller to repeat the steps above to show you the IMEI code of the gadget to let you use it to check the phone distantly.
What kind of information can be checked by IMEI
Once you know the iPhone unique ID number, you can use IMEI.org remote services to run all possible checks. Such distant information can be beneficial when purchasing a second-hand device and protecting yourself from ordering a useless non-working gadget.
Below, there is a list of what can be checked by iPhone IMEI number from the comfort of your home.
iPhone IMEI iCloud Check
Many Apple devices are protected by the Find My app. It automatically turns on iCloud Activation Lock, asking for the original iCloud password to unlock the screen and let you use the phone.
Run iCloud IMEI checker to learn if Find My iPhone is On / Off and Activation Lock is On / Off. This service is 100% free!")
iPhone IMEI Stolen Check
Handsets reported as lost or stolen are not safe to purchase. Thus, discover the iPhone IMEI Lost/Stolen Status to ensure the smartphone is clean and not reported by its original owner as appropriated.
iPhone IMEI Carrier Check
Many carriers lock iPhones to their networks. It means that such devices cannot work with other mobile operators.
So, use the distant checking tool to determine if the iPhone you are interested in is fully unlocked (can be used with worldwide networks) or carrier-locked.
iPhone IMEI SIM Lock Check
Getting a SIM-locked handset is also not a pleasant thing. It means that such devices will have no signal if you switch a SIM card and try to connect to a different mobile operator.
You better check the SIM-lock status of the iPhone to ensure it has no restrictions to be used with various mobile networks across the globe.
iPhone IMEI MDM Lock Check
Apple devices that are enrolled in DEP programs and have MDM profiles are fully controlled by the company owning them. Mobile Device Management lock means that the MDM-locked iPhone, iPad, Mac can be distantly erased, blocked, upgraded by the corporation via a particular Configuration Profile.
Use the MDM check tool by IMEI.org to learn if your MDM Status is On or Off.
iPhone IMEI Unlock Check
Sometimes you wish to learn several critical facts about the mobile phone at once. Using iPhone Unlock IMEI checker, you can figure out the following statuses of a checked device:
Carrier Lock - On or Off;
iCloud Find My iPhone Status - On or Off.
It is a quick way to ensure the second-hand Apple smartphone you plan to buy is not locked by carrier and Activation Lock.
iPhone IMEI Blacklist Check
Mobile carriers can blacklist iPhones for numerous reasons. And if this happens, the information is instantly added to the global GSMA database. A blacklisted phone is rather useless because it cannot connect to a mobile network anywhere in the world.
You can run the Blacklist checker to learn your iPhone Blacklist status by IMEI number. This real-time service guarantees the most recent information and accurate data.
iPhone IMEI Warranty Check
Does the phone have an Apple Care plan? Can you rely on Technical Support and Repair Coverage? Learn these things by checking your Warranty Status. The IMEI.org service lets you figure out if the smartphone still has a warranty or no coverage, whether your support options have expired or not, if the handset is activated or not, if it is a loaner device, etc. Check iPhone Warranty Status via IMEI
***
Now you know what can be checked by iPhone IMEI online. Use the most reliable online tools to know essential facts about your Apple device and ensure it will serve you well.
Check Phone IMEI
IMEI.org proposal to check online IMEI for the most popular device ever made!
Recent news
The IMEI.org provide complex IMEI check data service for any iPhone models